Third day here in Madrid, since I arrived on Tuesday morning. Damn, do I LOVE Madrid! Just a few days of work/vacation here isn't enough! 😁
Good news! I finally got the E-Residency digital ID card in my hands! Went this morning to pick it up from the Estonia's Embassy here in Madrid. Almost missed the appointment, because I thought the time to go pick it up was at 1PM, when in reality it was at 11:20AM… so, I jumped out of bed, changed into my clothes in front of a female roommate (sorry! 😅) and ran outside to grab a cab. Despite there being a traffic jam right in the city center we still managed to arrive on time.
At the Estonian Embassy I got attended by a female worker. She gave me a paper to sign with my name and handed over the E-Residency kit. It felt soooo good to have it finally in my hands after more than two years of chasing after it! Before I couldn't get it because I didn't have my passport in order, so the moment I fixed my passport I made another attempt at requesting it. In less than two weeks they confirmed that I got it and just another 3-4 weeks later I was picking it up.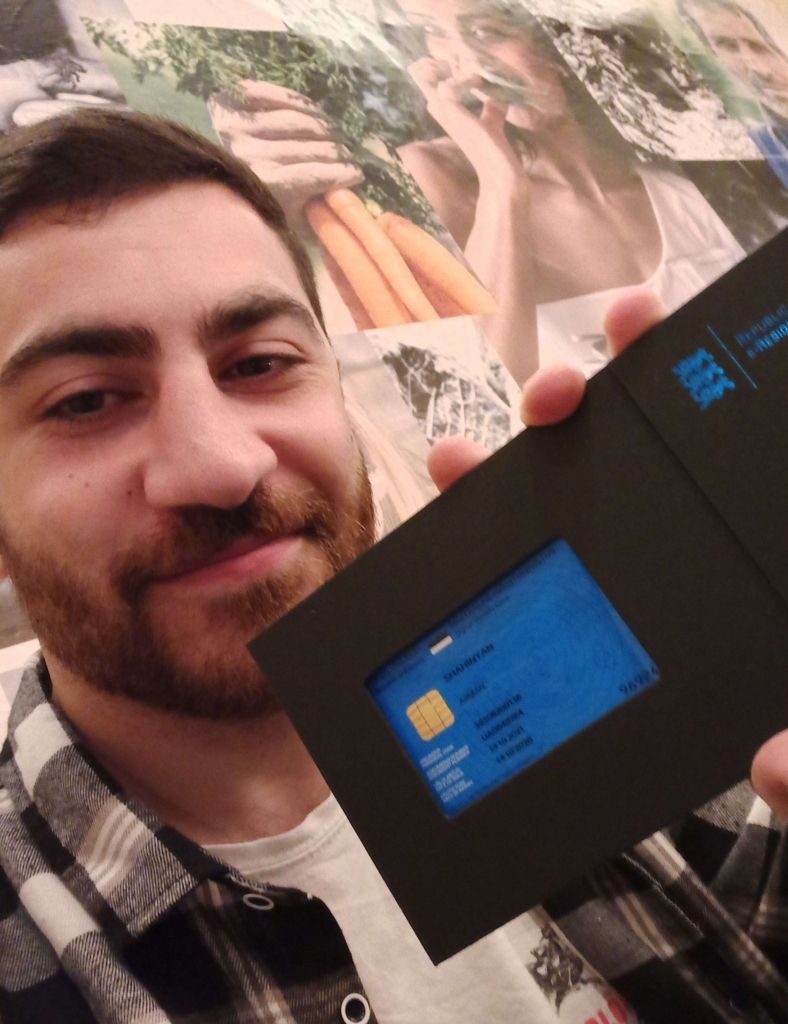 While making the request I also reapplied to the Xolo.io company to get the company and accounting revved up and ready to invoice some work. 😁
I advanced a couple of things, but not really that much. For the next steps of setting up a company I had to first get the ID. Now I've got to wait until tomorrow for the card go into effect. What's just one more day of waiting? We can do that, no problem.
That's the E-Residency story. Regarding the rest, business as usual; working from "coffices" I find here and there, wherever there is coffee, good internet, an power plug and nice surroundings. This time I went to Honest Greens on the C/Hortaleza street. Good coffee, plenty of space, good internet.
Midday came and it became very full very fast. My friend Michael joined me for lunch at Honest Greens, and a coffee afterwards in the Malasaña district, which is very similar to the Gracia district of Barcelona; same hipster chill laid-back kind of "barrio".
Afterwards came back to the hostal to get some more work done, which I'm kinda finishing with these last lines that I'm typing. See ya in the next one. Gotta go get prepared to meet Michael for a couple of drinks and relaxed night out. We'll party again tomorrow night. Gotta take it easy.
---
🌞 The Morning Routine
I am grateful for…
… being able to travel and still have amazing experiences with people around the globe.
… friends and the new ones I meet.
… tasty food I get to eat. And at a good price at that!
Daily Affirmations. I am…
… a bit tired, but always up for some party!
… happy to be in Madrid, a city I love.
… finally setting up my online agency company now that I've picked up the E-Residency kit.
What would make today great?
Get the E-Residency kit.
Meet with my friends.
Get some work done.
Take this night easy, relax. Party tomorrow again.
---
🌜 The Night Routine
3 Amazing things that happened today…
Picked up the E-Residency kit.
Met with friends.
Got some work done.
Took a chill night out with my roomie and friend.
How could I have made today even better?
Little to nothing. It was pretty good.